Invincible Marketer Review
Invincible Marketer is a marketing course that will teach you everything you need to know about online marketing and especially affiliate marketing.
In this article I will go through all you need to know about Invincible Marketer both the pros and the cons all the things that Invincible Marketer contains and how it may or may not help you.
I will end with giving you my conclusion on the programme and then how you can get the bonuses that I also offer if you want to join it through me.
Just for complete clarity and openness I want to let you know that I am involved in the course but that is not going to stop me from giving you a completely unbiased invinsible marketer review.
However if you do get involved via any links on this site just know that I will get a commission (But that won't effect the price 😉
Anyway let's get started
For those of you that prefer to watch rather than read I have filmed a Invincible Marketer Review video which you can watch below
What Is Invincible Marketer?
Invincible Marketer is a marketing course created by a guy called Aaron Chen. He had been marketing online for about 10 years himself and had spent $90K struggling to make any real money from it.
Then he found a mentor the well known Vick Strizheus who taught him how to effectively market for profit online. He followed the advice and started to change things around and became a 6 figure earner himself.
Now he has put everything he learnt that changed things around for him into his flagship product – Invincible Marketer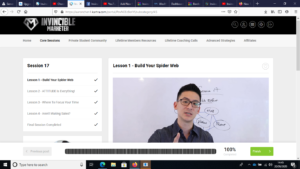 What Do You Get In Invicible Marketer
It is a video training course that has 17 sessions and each session is very indepth.
It teaches you in pain staking details everything you would need to know to run a successful affiliate marketing business and compares this new model to the old school marketing model (which in my opinion no longer works)
Most session are divided into 6-7 individual sections so he takes what he calls a 30,000 foot view first and then deep dives into the subject.
Each session also ends with a homework assignment to keep you accountable and moving forward towards your success
Session 1 –

Welcome Session

that lays out what the couse is all about and some of the correct mindsets that you need to succeed online
Session 2 –

Pyramid of success –

Talks about the 6 figure conversion model that he learnt and tweaked to get greater redults
Session 3 –

Review Goal Cards

– Plus also what affiliate marketing is and how to distinguish between a good and a bad product
Session 4 –

Recommended Affiliate Products

what you should look for before you start promoting a product
Session 5 –

The Value Series

what it means and how to use it to crush your marketing (I believe this session was the game changer for me)
Session 6 –

The Metrics Of Effective Marketing

– How to increase your conversion rates and how to set up a squeeze page that converts 50% of visitors into leads
Session 7 –

Let's Journal

– The power of journalling plus how to set up a 6 figure email strategy
Session 8 – Traffic Training – In depth training on how to use Youtube as a traffic strategy but also at least 5 other places to get traffic
Session 9 –

Delayed Gratification

– How to focus on building a sustainable business and also Value Series review
Session 10 –

More Video Training

– Further training on how to use Youtube as a traffic source if you want to
Session 11 –

Setting Up and Integrating

your private email plus examples of emails to write
Session 12 –

Split Testing And Getting More Traffic 

Session 13 –

How To Crush Obstacles

plus unlimited traffic masterclass
Session 14 – Building An Authority Site

Session 15 –

Create Bonuses

– How to convert more sales
Session 16 –

Build A FaceBook Tribe –

Build a tribe of loyal buyers using FaceBook pages
Session 17 –

Where To Focus Your Time

and what to do if your not making sales
Phew
As you can see it is very indepth training but if you go through the course then you have all you need to start consistently earning with affiliate marketing, I believe
Who Is Invincible Marketer For?
Invincible marketer is for anyone that wants to learn how to be an effective affiliate marketer.
Weather they are beginner, intermediate or advanced it has something for everyone.
Aaron Chen himself is in the make money online niche but this training is not niche specific and the principles apply whatever niche you're in.
It is an indepth training and probably will take you a couple of weeks to go through the whole of it depending or how badly you want to complete it
But who is invincible marketer not for?
Well anyone that is looking for a quick fix to their affiliate marketing issues.
It definetely will not appeal to the Get-Rich-Quick crowd because that is certainly not what this is
Also this wouldn't be for the freebie hunters eitheir because there are costs involved in marketing as in any business
It works for people that want to start and build a sustainable business that once set up and running can make you a very good income online.
But if you put what you're taught into action you can start getting results as you can see…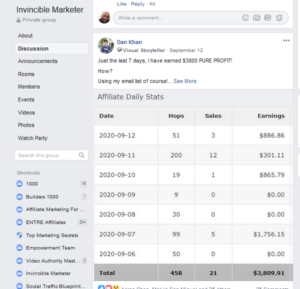 Cost Of Invincible Marketer
You have 2 choices when buying Invincible Marketer
You can do the monthly payment which is $49pm and you get access to eveything from day one and you can cancel anytime you want.
You can become a lifetime member which costs $497 and there are no further fees and you get access to everything (plus some additional bonuses) and the abilty to become an affiliate of the programme and make 50% commissions on everything he sells.
The choice is yours but both come with a 30 day money back guarantee so you can get in, look around and if you decide it's not for you then get your money back
Invicible Marketer Bonuses
If you want to get Invincible Marketer then I have $592 in additional bonuses for you.
Bonus 1: Access To An Exclusive Interview I had With Aaron Chen Where He Deep Dives Into How To Super Charge Your Affiliate Marketing Business (Value $97)
Bonus 2: Acess To The Bing Traffic Software I Use To Get Tons Of Hungry Buyers From The Bing Platform (Value $97)
Bonus 3: 5 Point Cheat Sheet (Gives you an unfair advantage when you join)  (Value $97)
Bonus 4: How To Write Hypnotic Emails That Entices People To Buy  (Value $27)
​Bonus 5: Exclusive Access To The Inner Circle Facebook Group  (Value $147)
Bonus 6: How To Rank Youtube Videos Like An Expert  (Value $127)
That all adds up to $592 of additional bonuses 🙂
These will be yours if you join the programme by clicking the image below:

Conclusion – Pros and Cons
So in this Invincible Marketer Review I went over everything that is included in the programme and the video above gives you a sneek peek of what it looks like on the inside
Now here is my conclusion on the pro's and the cons of this course.
The pro's for me are that it is very indepth it teaches you how to set up an affiliate marketing business properly, so as you can have sustainable lifelong success. The product owner is also in the trenches with you and is there to help.
There is a Facebook group where he personally answers people's problems so that is a real plus (can't tell you how many courses I have joined where as soon as I sign up the owner suddenly becomes Casper the friendly ghost lol)
The cons I suppose for some would be is that is too detailed so a bit over whelming and also the mindset training is not for everyone.
Some people are just like "Teach me the strategy this mindset stuff is crap"
Needless to say they are probably the ones that fail.
He teaches you the things to do and you have to go out there and do them which isn't for everyone. Some want everything done for them.
To be honest I don't have that many cons and give it a 9/10 which I why I personally joined it.
And why since joining I have already seen an improvement in my business and in the amount of sales I make.
I hope you enjoyed my Invincible Marketer Review. If you do have any questions you can leave them in the box below and I'll personally answer them.
If you are ready to jump onboard then click the image below and watch the FREE video that Aaron Chen has done, that teaches you exactly how to get started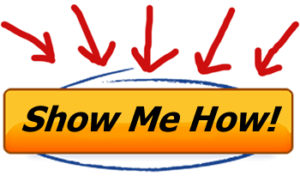 Speak later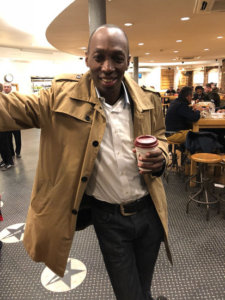 P.S. If you want to become an Invincible Marketer just click the link below:
Click Here
Comments
comments